This level occupies the map slot MAP16. For other maps which occupy this slot, see Category:MAP16.
MAP16: Predatorium is the sixteenth map of Plutonia 2. It was designed by Adolf Vojta (Gusta), and uses the music track "Come Out Fighting" by Eric Baker (The Green Herring).
Walkthrough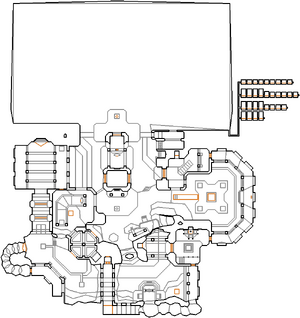 Letters in italics refer to marked spots on the map. Sector numbers in boldface are secrets which count toward the end-of-level tally.
Secrets
When picking up the blue skull key just keep walking north, cross the walkway and fall into the pit north of it. At the northern end of this pit are four stimpacks. From there turn around and you will see a very small red button on the beam. Push it, then go through the teleporter on the right. Now on the walkway you just crossed a moment ago, enter the large door at it's northeastern end. In this room, a step has been lowered, enabling you to access the teleporter. Go through it for a soul sphere (#1).
Return to the walkway mentioned in secret #1. Go west through the passage with the blue bars to your right, two steps up and down the stairs after the invisibility sphere. The northern end of this pit will have some stairs heading up. Before heading up the stairs, look left and notice the recessed wall. Open it up for nine health bonuses and a blue armor, guarded by four sergeants and a revenant.
Bugs
There appears to be two red skull keys on "Hey not too rough" difficultly and higher.
Speedrunning
It is possible to reach the exit from the beginning, by utilizing an Arch-vile jump technique.
Statistics
Things
Trivia
Amongst possible names for this map during development were "Precariottes" and "Predation".
Plutonia 2 Maps
Secret Maps
Community content is available under
CC-BY-SA
unless otherwise noted.