This level occupies the map slot MAP15. For other maps which occupy this slot, see Category:MAP15.
MAP15: Temple of Water is the fifteenth map of Whispers of Satan. It was designed by Paul Corfiatis, who also wrote the music track for this level, "Viola Villa".
Walkthrough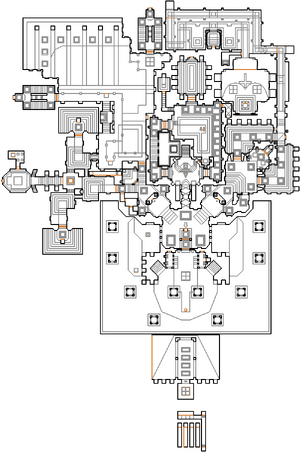 Letters in italics refer to marked spots on the map. Sector numbers in boldface are secrets which count toward the end-of-level tally.
Secrets
Right from the start, there are two small sets of stairs, climb up the eastern one and open the wall portion between two green torches to get a blue armor.
Where the switch to lower the red key is: look at the right hand computer panel.You'll see a panel with danger tape on it. Open this panel, use the teleporter inside and push the button on the pillar to get a soul sphere.
Push the leftmost wall before the door past the area where you got the red key to get a blur sphere.
Open the lefthand wall of secret 3 for lots of armour bonuses.
In secret 4, open the red key door for a computer area map.
After going through the big red key door, enter the river area to the blue key. The last righthand wall before the room with the blue key opens to reveal an invulnerability sphere.
This is where the yellow key is: take the door on the right and push the righthand wall at the end of the hallway to get some rockets and a rocket launcher.
In the outside area after the water-filled tunnel bit where you have to lower the pillars for access: Go to where the revenant is and kill it, then turn around. One of the lion switches on the wall is not lit. Shoot this switch to lower the pillar behind you and get a plasma rifle. 
Secret exit: in the room with the ellow key pedestal, go down the stairs on the left and jump into the water where the candle is.Go through the hole in the wall and follow the passage to the exit to MAP31:Space Station Skywalker
Statistics
Map data
Things
Community content is available under
CC-BY-SA
unless otherwise noted.