This level occupies the map slot MAP15. For other maps which occupy this slot, see Category:MAP15.
MAP15: Gates to Hell, designed by Yonatan Donner, is the fifteenth map of Hell Revealed. It uses "How'd I do?," the intermission screen music from Rise of the Triad.
Description
According to the Hell Revealed info pack:
The central area has 8 teleporters, each of them leading to a different place. All of those 8 destinations are connected and when you've been to two adjacent ones you can pass between them freely. You have to lower nearly all teleporters and find all keys to get to the exit. To get to the secret exit you will have to find 3 separate secrets and lower a special teleporter. In the start, try a shot in the dark...
Size: medium
Difficulty: medium
The central part of the map, with the portals, looks like Heretic's E2M8: The Portals of Chaos.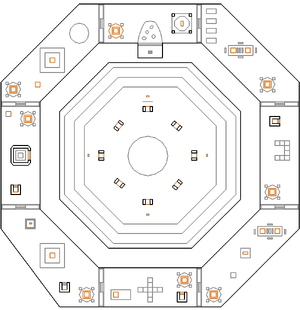 Walkthrough
Secrets
Before stepping into the teleporter shoot the north wall, turn around and open the south-wall in the pitch-black starting room. You'll find a Shotgun and - most important as there is no way getting back there! - a switch that lowers one of the three bars blocking the secret exit.
In the southern part of the ring there is a cage with a Megasphere. To teleport there step into the southern teleporter in the central area - but from the north (that teleporter-gate is direction-sensitive).
Step into the teleport in the north-western part of the ring. This gets you to the cage in the north-eastern part of the ring which counts as secret. The secret exit is there, too, but is blocked by three panels that have to be lowered first. The eastern one is lowered by the switch in secret #1. The middle one is lowered by a switch hidden behind a walkthrough slime-wall in the slime-pit in the northern part of the ring. The western one is lowered by pressing the eastern side of the pillar (the one with a different texture) with the Soul sphere in the north-western part of the ring.
Secrets
Speedrunning
See:
Statistics
Map data
Things
Community content is available under
CC-BY-SA
unless otherwise noted.