This level occupies the map slot MAP15. For other maps which occupy this slot, see Category:MAP15.
MAP15: Bulls on Parade is the fifteenth map of Alien Vendetta. It was designed by Madani el Hariri with parts edited by Yashar "GeminI" Garibzadeh, Anthony Soto and Anders Johnsen. It uses the music track of Heretic's E2M3: The River of Fire.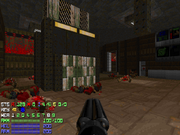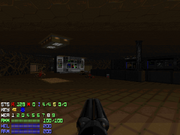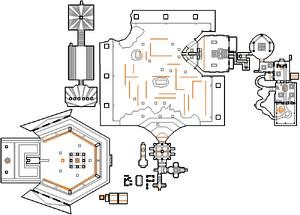 Walkthrough
Secrets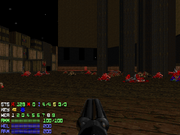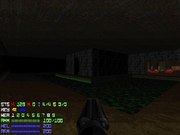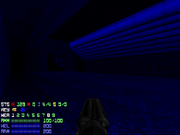 Go through the first door at the start of the level, then hang a left and continue until reaching the room with a narrow lava river running through it. At the north end of this room is a brown rectangular structure; walk around to the back side of it. Notice that a portion of the brown wall is textured slightly differently than its surroundings. Open this wall to get a combat armor.
At the south end of the eastern portion of the level, there is a room with a circuitous lava river and a lit column in one of the corners. You can see lift panels on each side of this column; step onto any of them and you'll be lowered into a secret area with a rocket launcher. Make sure you actually walk over the the central sector in order to make the secret trigger.
Secret Level: After going through the scrolling space teleporter, go from the huge, tall room into the room with the slime. In the middle of the room face the midpoint of the wall opposite the area labeled "exit" and press it. Go through the teleporter and proceed straight into the big, red teleporter. In the all-blue room that follows, turn around and proceed straight into the room you see. Pick up the blue key in this room. Turn around and leave this room and proceed through the next room and climb the glowing staircase. At the end of this room, open the two blue bars and enter the blue teleporter to the secret exit.
Speedrunning
Records
The Compet-N records for the map are:
Statistics
Map data
Things
Trivia
Bulls on Parade is a song by Rage Against the Machine from their album Evil Empire.
Community content is available under
CC-BY-SA
unless otherwise noted.