This level occupies the map slot MAP14. For other maps which occupy this slot, see Category:MAP14.
MAP14: The Wasted Dens is the fourteenth map of Whispers of Satan. It was designed by Paul Corfiatis, and uses the music track "Dreamtime Cut" by Kristian Aro.
Walkthrough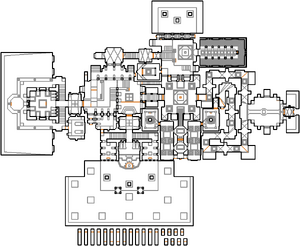 Letters in italics refer to marked spots on the map. Sector numbers in boldface are secrets which count toward the end-of-level tally.
Secrets
At the beginning of the level, go up the stairs on your right. Push the wall to the right of the baron-faced wall and go into the "graveyard" area to get megaarmour and clips.
After getting the yellow key, go to the door with the arrow in front of it. Open the door to get a rocket launcher and some rockets.
In the room where the red key is, open the only green wall and follow the pasage to get a soulsphere.
In the room where the switch is that opens the other door on the way to the switch that lowers the red key: go to the furthest right hand corner of the room and open the wall to get a computer area map and some ammo.
Open the middle bit of the room with the lift that needs the yellow key to get a plasma gun and some cells (note that you need the red key to do this).
Go up the right hand stairs in the blue key room and push the corner wall for backpacks and a chainsaw.
Statistics
Map data
Things
Community content is available under
CC-BY-SA
unless otherwise noted.