This level occupies the map slot MAP14. For other maps which occupy this slot, see Category:MAP14.
MAP14: The Haunted Mines is the fourteenth map of the megawad Scythe 2. It was designed by Erik Alm and uses the music track "Theme of Samus Aran: Galactic Warrior" from Super Metroid.
[[file: |thumb|300px|Map of **]]

Walkthrough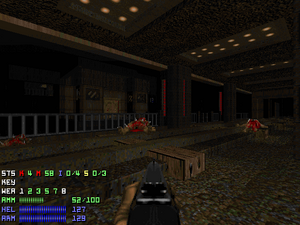 Secrets
When you come to the room with the elevators and Cacodemons, go up the first elevator you see and drop down to the opposite side. you'll come into a passageway with an alcove around the corner. Inside it is a Super Armor and 8 Shotgun shells, guarded by a Revenant and a Pain Elemental.
When you come to the little small room which requires the red keycard, go into it and press "Activate" on the grey plate to the left of the entrance. This enables you to go into a teleporter in the middle of the big room with many different demons inside. It teleports you into a small chamber with a Invisiblity Sphere and 10 rockets inside. There is also a Shotgun Zombie in there.
In the big room with many different demons, you can see 2 faces over the entrance. Shoot the left one and a door up the stairs opens. Press the switch in there to lower a pillar with a Soul Sphere ontop. This pillar can be found at the point where you can get the BFG 9000.
Speedrunning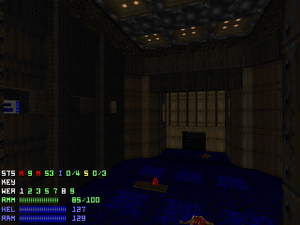 Records
The Compet-N records for the map are:
Statistics
Map data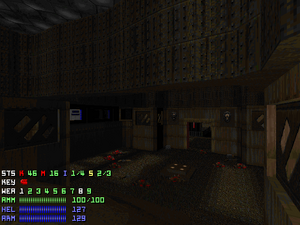 Things
Scythe 2 Maps
Secret Maps
Community content is available under
CC-BY-SA
unless otherwise noted.