This level occupies the map slot MAP14. For other maps which occupy this slot, see Category:MAP14.
MAP14: Overwhelming Odds is the fourteenth map of Alien Vendetta. It was designed by Brad Spencer and uses the music track "On the Hunt" from Doom.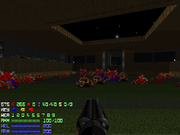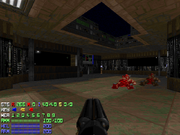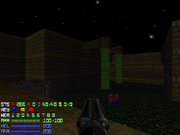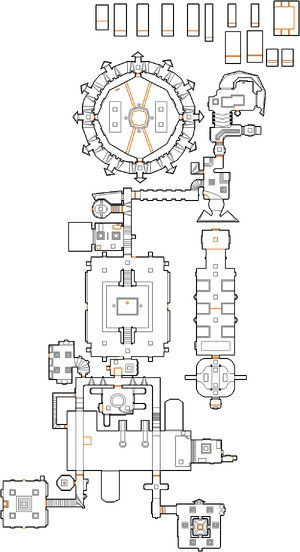 Walkthrough
Overwhelming Odds is the first Alien Vendetta map that requires a bit of planning and care. The level has two halves - the upper half, which is simple, and the bottom half, chock-full of ambushes and tough fights. To reach the south-east of the map, you must raise a bridge by pressing a switch in the large demon-infested nukage pool, but grab the BFG first, as doing so releases two Cyberdemons, then an army of Cacodemons - the toughest fight of this map.
Both keys in the southern half of the map are guarded by nasty ambushes, which become much easier by carefully instigating monster infighting.
Secrets
From the starting area, head south up the stairs and through the door. IN the following room is a wall with a lightning bolt symbol on it - open it and flip the switch, lowering a pillar with a berserk pack on it in the same room.
A bit beyond the door up the stairs north of the starting area, you'll reach a brown room lit by some gas lamps. There is a combat armor vest across a narrow river of blood; pick it up and a wall will open nearby. Run into this newly-opened room to get a shotgun and some health.
In the northeastern corner of the map is another room lit by gas lamps, this one with circuitry-covered walls. One of the walls in this room is solid brown, however, and can be opened to reveal a backpack.
Speedrunning
Routes and tricks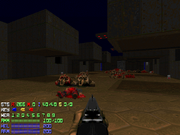 Records
The Compet-N records for the map are:
Statistics
Map data
Things
Community content is available under
CC-BY-SA
unless otherwise noted.