This level occupies the map slot MAP14. For other maps which occupy this slot, see Category:MAP14.
MAP14: Genesis is the fourteenth map of The Plutonia Experiment. It uses the music track "Nobody Told Me About Id" from Doom.
Walkthrough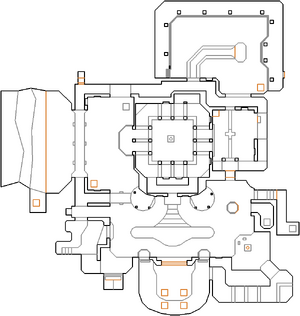 Secrets
From the level start, head south into the blood-floored area. Go through the opening on the right, go up the stairs, and run across the gap to get the rocket launcher. Ahead of you is a bridge crossing another bloody pit. On the other side is a blood-splattered wood-panel wall in the corner. Open this wall to reveal a secret teleporter that takes you to an otherwise unreachable area.
From the ledge you were taken to in secret #1, you can see a metal "well" just below in the blood pool. Drop into it to get the soul sphere inside.
Return to the bridge from secret #1. This time, drop off the west side. You can lower the bloodfalls here like a lift, which will reveal another teleporter to a secret area.
Bugs
From the exit, it is possible to jump between the burning barrels into the well (secret #2) before raising the bottom. As the only way to raise it is to jump into it from the west ledge (the east walls are type 119 [W1, UP, Next Neighbor Floor]), you will become trapped.
Screenshots
Speedrunning
Records
The Compet-N records for the map are:
Statistics
Map data
Things
External links
Plutonia Maps
Secret Maps