This level occupies the map slot MAP14. For other maps which occupy this slot, see Category:MAP14.
MAP14: A Question of Time is the fourteenth level of Memento Mori II. It was designed by Matthias Worch and Thomas Möller. It uses the music track "The Maw Awaits" by David "Tolwyn" Shaw, and contains a separate area for multiplayer competition.
Mission briefing
According to both the text file and the Infopack:
Hmm, we don't have much information about this thing. What we know is: You'll have to reach Area 15 quickly, and teleporter [sic] leading there is located in this building - so you'll probably have to go through it.
Walkthrough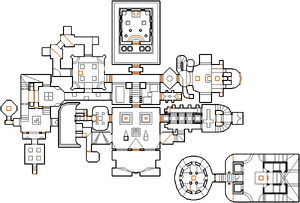 Letters in italics refer to marked spots on the map. Sector numbers in boldface are secrets which count toward the end-of-level tally.
Secrets
Bugs
Table of items placed in deathmatch arena:
Speedrunning
Routes and tricks
The satyr switch lowering the platform with the blue skull key, as well as the lion switch creating steps surrounding the platform can be both pressed from the "wrong" side (from behind the bars). Performing this trick allows to skip the entire first part of the level (before the blue key door), although it may be risky in a potential episode run, as it is not trivial to press the switches this way and it also means skipping the only armor in this level.
The switch opening the door leading to the yellow skull key can be pressed the similar way, from behind the bars. This trick is much easier to perform, however, and it allows skipping another significant part of the level, including an arch-vile (on Hurt Me Plenty or higher).
Two shootable lion switches opening the path to the teleporter leading to the red skull key can be shot from the top of the staircase using the super shotgun. As a result, the time spent on using the elevators leading to these switches and dealing with the revenants can be saved.
After picking up the red skull key and entering the teleporter, instead of climbing the stairs and dealing with monsters teleporting in, the player may teleport himself again to the red key area. Then he simply needs to run backward from the teleport pad he is standing to return to the main area.
Current records
The Compet-N records for the map are:
Miscellaneous demos
| Run | Time | Player | Date | File | Notes |
| --- | --- | --- | --- | --- | --- |
| | | | | .zip | |
Statistics
Map data
Things
External links
Memento Mori II Maps
Regular Maps
MAP14: A Question of Time
Secret Maps
Top-Secret Maps
Community content is available under
CC-BY-SA
unless otherwise noted.