This level occupies the map slot MAP13. For other maps which occupy this slot, see Category:MAP13.
MAP13: The Inmost Dens II is the thirteenth level of Memento Mori. It was designed by Denis Möller as a sequel to Doom II's MAP14: The Inmost Dens. It uses an unnamed music track by Mark Klem.
As the level begins with the player standing on a damaging floor, this level provides a rare, easy opportunity to see the ouch face.
Walkthrough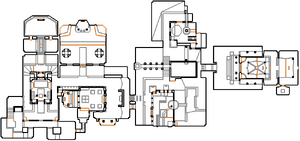 Letters in italics refer to marked spots on the map. Sector numbers in boldface are secrets which count toward the end-of-level tally.
Secrets
On grabbing the chainsaw next to the switch raising the stairs to the red skull key, the floor lowers, revealing an ambush of demons and spectres. Open the faded brick wall in the southwest of the hallway where they were waiting to find three (on easy), four (on medium) or five (on hard skill levels) lost souls, four sets of shells, four clips, three rockets, four energy cells and four stimpacks (sector 460).
At the north of the plasma gun building, walk onto the first step to the west. Immediately run to the east of the building and drop into the newly-revealed hole to enter the former humans' corridor (sector 458), containing a berserk pack.
In the room with the blue armor southeast of the plasma gun building, open the center portion of the eastern wall to find a stairway leading to the lost souls' cage (sector 427) south of the rocket launcher building, containing a soul sphere and two lost souls.
Bugs
At the southwest side of the building east of the red key, there is a section of wall (linedef 297) with linedef type 127 (build stairs by 16 map units, fast, switch-activated once) tagged to the nearby, yet to be built staircase, even though it has no switch texture, and a switch with an identical type and tag is found at the very east of the map. This may likely have been a debug switch, meant to test if the stairs would build as intended, that the author forgot to remove before the megawad's release.
Speedrunning
Current records
The Compet-N records for the map are:
Miscellaneous demos
| Run | Time | Player | Date | File | Notes |
| --- | --- | --- | --- | --- | --- |
| | | | | .zip | |
Statistics
Map data
Things
External links
Community content is available under
CC-BY-SA
unless otherwise noted.