This level occupies the map slot MAP13. For other maps which occupy this slot, see Category:MAP13.
MAP13: Asylum is the thirteenth level of Icarus: Alien Vanguard. The level takes place in a simulation characterized by drab, gray walls and muddled, green, metal rooms, and was designed by Robert Taylor.
Walkthrough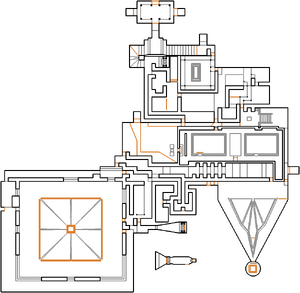 Letters in italics refer to marked spots on the map. Sector numbers in boldface are secrets which count toward the end-of-level tally.
Secrets
In the room where you find the blue key is a small table carrying a berserk. Standing in front of this room, run straight northwards through the middle of the central nukage puddle's southern half, surrounded by the blue floor insignia outside and the table will sink, granting you access to the berserk. Entering the blue key room raises the floor insignia, so walk towards the northeastern door to lower it again. However, it is the not the table that counts as secret but the narrow strip of lava (sector 119) around it. It cannot be registered, as doing so requires your feet to touch it and you cannot cross it without being lifted out of reach by the nearby floor.
Bugs
Linedef 243 is a walkover trigger (Type 86 - WR Door Open Stay) that opens a door with a Tag of 15. However, no sector in this level has a tag of 15.
0% Secrets is the maximum possible, because the only secret in the level cannot be triggered.
Northeast of the rocket launcher room (since the rocket launcher is only present on hard skills in single-player mode: It is the big room in the map's southwest.) is an imp (Thing 77) facing a door. If you cross his line of sight, he will ignore you as long as you do not fire a shot. This is due to the same bug that affects one shotgun guy in Doom II MAP02: Underhalls (Doom II), wherein the engine compares the wrong set of coordinates while calculating line of sight. The imp is located at (832,960) and there are multiple vertices in other rooms with a y-coordinate of 832.
Speedrunning
Current records
The records for the map on the Doomed Speed Demos Archive are:
Miscellaneous demos
Statistics
Map data
Things
External links
Icarus Maps
Secret Maps
Community content is available under
CC-BY-SA
unless otherwise noted.