This article is a stub. Please help the Doom Wiki by expanding it.
This level occupies the map slot MAP12. For other maps which occupy this slot, see Category:MAP12.
The Meat Grinder is the twelfth map of Speed of Doom. It was designed by Darkwave0000 and uses the music from Heretic E1M1. The par time is unknown.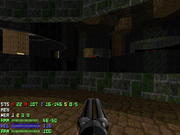 Walkthrough
Essentials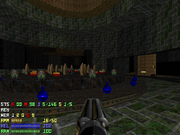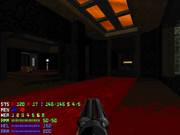 Secrets
Up in the room with the rocket launcher, check the three red bars in the walls nearby (linedefs #3331, # 3265 and #3334, third screenshot). They will lower the three bars and grant you the access upstairs. Plenty of goodies, here.
North, where imps attack you from a catwalk, check a switch (linedef #4450). Grab the health bonuses and the armor bonuses.
In the octagonal room with the stairs, climb them up and use the wall (linedef #5024) and wear the megaarmor.
Enter the pools of blood near the grinder, grab the plasma gun.
Down in the end, enter the nukage pool and get plasma ammo and health.
Bugs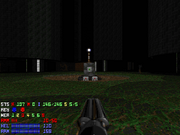 Down in the room with the grinder, if you don't cross all the three lines and then hit the switch (linedef #630) to open the wall in front of the lift (sector #215), crossing the last lines will close definitely the wall: the switch is a one-way switch.
Speedrunning
Current records
The Compet-n records for the map are:
Miscellaneous demos
| Run | Time | Player | Date | File | Notes |
| --- | --- | --- | --- | --- | --- |
| | | | | .zip | |
Statistics
Map data
Things
Community content is available under
CC-BY-SA
unless otherwise noted.