This level occupies the map slot MAP12. For other maps which occupy this slot, see Category:MAP12.
MAP12: Great Halls of Fire, designed by Yonatan Donner, is the twelfth map of Hell Revealed. It uses the music track "Run Like Smeg" from Rise of the Triad.
Description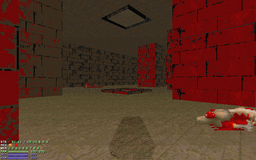 According to the Hell Revealed info pack:
The beginning of episode 2 is not very hard - you can take a breath, and you should, because after that you will not have many levels in which you won't have to spend every moment fighting for your life. Enjoy it while you can! Kill the barons in the super shotgun area quickly, this fight is still one of my favorite ones.
Size: medium
Difficulty: medium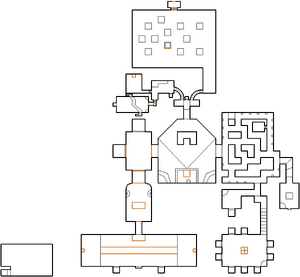 Walkthrough
Secrets
From the starting area, go through the doorway to the north. Ahead of you will be two staircases leading up to the left and right. Open the brown brick wall between the two staircases to get a berserk pack.
From secret #1, go up the stairs to the left. At the top is a green marble room. One of the walls has a lion face on it; open it to get two boxes of shells.
From secret #1, go up the stairs to the right and you'll end up in a red brick room with multiple pillars in the center. One of these pillars (the southern one just west of center) can be lowered, revealing a bulk cell.
Speedrunning
See:
Statistics
Map data
Things
Hell Revealed Maps
Regular Maps
MAP12: Great Halls of Fire
Secret Maps
Community content is available under
CC-BY-SA
unless otherwise noted.