This article is a stub. Please help the Doom Wiki by expanding it.
Template:Scythe 2 11-20
This level occupies the map slot MAP11. For other maps which occupy this slot, see Category:MAP11.
MAP11: UAC Base X is the eleventh map of the megawad Scythe 2. It was designed by Erik Alm and uses the music track of "Dr Wily 2" from Mega Man 7. It is the first map of the industrial episode, the third episode in Scythe 2.
Description
Strategy
Walkthrough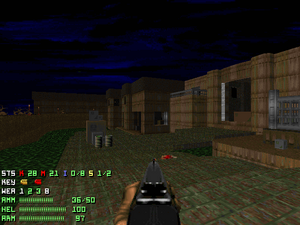 Secrets
As you start this map, go up the stairs and continue the hallway until you reach the yellow switch area, from here go right to the small dark hallway, stop at the area where on the left side of the wall is a Lamp lightning the area and the right side of the wall, the wall that the light is shining upon can be opened (Reward: Blue Armor).
Continue playing the map until you go into the Blue Door, once in it keep going trough the dark hallways until you reach a point where there is a hole in the floor with a drop down, now get some speed going and try to leap over the hole onto the ledge located on the other side of the hole (Reward: Rocket Launcher and a Medikit).
Speedrunning
See:
Routes and Tricks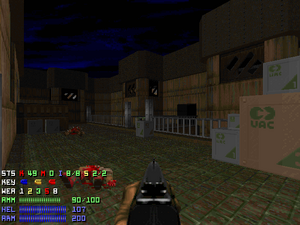 Statistics
Map data
Things
Trivia
External links