This article is a stub. Please help the Doom Wiki by expanding it.
This level occupies the map slot MAP11. For other maps which occupy this slot, see Category:MAP11.
MAP11: Sneak Peak is the eleventh map of the megawad Scythe. It was designed by Erik Alm and uses the music track "Into The Beast's Belly". It is the first map of the second episode.
Strategy
Walkthrough
A Video Playtrough of "Map11: Sneak Peak"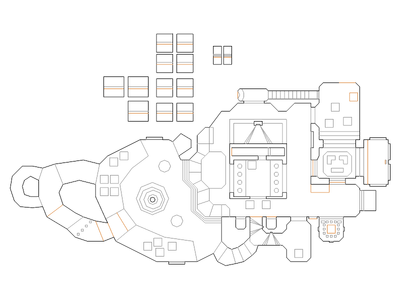 Secrets
When you start the map and go to your left there will be two roads you can take. Take the one to your right that leads to the outside area, once there turn right again and check the brown wall next to you, with your use/open key it should lower. *note revenant in it*
Once you are at the small dark cave that leads up to the Blue skull key, in that cave are two two small cave entrances go into any of those two.
At the Red Skull key area, you should notice that on the wall there are three bloody mess "humans?". Try using your use/open key on on all of them or simply the middle one, a wall should open to your left, go up the stairs, hit the switch and a wall will open to your left. Now get some speed going and try to land on the ledge of the building that you can see infront of you.
Run around the Blue Skull door area or where the two medikits are and another brown wall should lower with a cacodemon in it *located next to the secret with the revenant one "1.", simply go into the hole that opened.
Speedrunning
Records
The Compet-N records for the map are:
Statistics
Map data
Things
Scythe Maps
Secret Maps
Community content is available under
CC-BY-SA
unless otherwise noted.