This level occupies the map slot MAP11. For other maps which occupy this slot, see Category:MAP11.
MAP11: Halls of Insanity is the eleventh map of Memento Mori. It is an alternate version of Eric Reuter's 1994 level, DM2GM2.WAD, modified by Denis Möller for cooperative multiplayer gameplay. It uses the music track "Mummy Rags" by Mark Klem. In cooperative play, the team of players is divided and separated from one another; Players 2 and 4 must fight through a different portion of the map, and meet the other players at a rendezvous point.
Walkthrough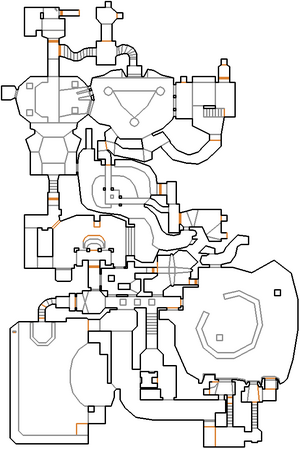 Letters in italics refer to marked spots on the map. Sector numbers in boldface are secrets which count toward the end-of-level tally.
Essentials
Single-player:
Go north down the stairway, head west, and open the northern door. Take the blue key, and go through either one of the western openings to the blue door. Open it, and go all the way north. Open the brown section of wall to the east, and take both stairways outdoors. Go through the eastern opening, and enter the teleporter. Open the green door, go through the western hall, grab the yellow key, and head back into the teleporter. Backtrack to the yellow door, open it, and open the northeast door. Kill the spectre, and press the switch.
Cooperative multiplayer:
(To be written eventually...)
Secrets
There are no official secrets in this level.
Bugs
In spite of it being specially edited for cooperative multiplayer gameplay, none of the things in this level are flagged as multiplayer-only. This has two side effects:
There are two blue keycards present on the level. Although the extra keycard (thing 53, located in the southeast yard) is intended to be accessed by Players 2 and 4 during cooperative multiplayer, it appears outside of multiplayer and can be accessed in singleplayer gameplay if you enter the teleporter behind the blue key-locked door east of the teleporter to the yellow keycard. As the blue key is required to access it in the first place, getting this second blue key is redundant.
Table of all things (except player spawns) reachable on multiplayer only:
Dependant on the skill level, two, four or six sergeants can be killed through the grates. The lost souls will hear you shooting and approach the grate, so they can be killed too.
Speedrunning
Current records
The Compet-N records for the map are:
Miscellaneous demos
| Run | Time | Player | Date | File | Notes |
| --- | --- | --- | --- | --- | --- |
| | | | | .zip | |
Statistics
Map data
Things
External links
Community content is available under
CC-BY-SA
unless otherwise noted.