This level occupies the map slot MAP10. For other maps which occupy this slot, see Category:MAP10.
MAP10: Toxic Touch is the tenth map of the megawad Alien Vendetta. It was designed by Kim "Mutator" Malde right after his creation of MAP09: Castle Gardens, and constructed with DEU 2 and DETH v4.16B. It uses the music track "Plasma" from Duke Nukem 3D. The deathmatch portion of this level is a remake of Quake's DM4: The Bad Place, originally designed by American McGee.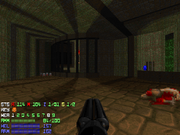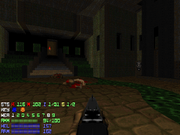 Description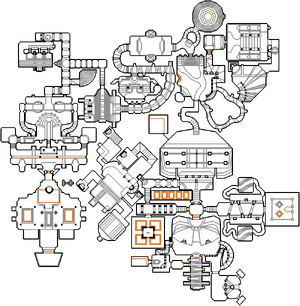 Walkthrough
Secrets
Note: This secret cannot be reached after dropping down the hole in the first room. In the starting area there are three alcoves each in the walls to the left and right. The third one on the left has a armor bonus in it; lower it like a lift and follow the stairs down to an area with a backpack and chainsaw. The secret only seems to trigger when you're leaving the area by riding the lowered floor back up to the starting room.
There is a hallway shaped roughly like a "T" turned 90 degrees to the left in the northwest corner of the map. You enter from the eastern arm, and the southern arm is blocked by a locked door (the switch to open it is located in an area beyond the northern arm, but that's not important to finding this secret). One of the stone wall on the eastern wall of the souther arm of this "T"-shaped hallway is solid gray, and lacks the green highlights of the surrounding walls. Open it to get a soul sphere.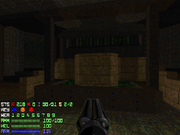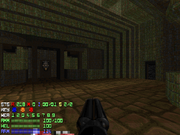 Speedrunning
See:
Statistics
Map data
Things
Community content is available under
CC-BY-SA
unless otherwise noted.