This level occupies the map slot MAP10. For other maps which occupy this slot, see Category:MAP10.
MAP10: Bridge is the tenth level of Icarus: Alien Vanguard, set on the bridge of the exploration cruiser, Icarus, as well as its rec rooms. It was designed by Ty Halderman, and uses the music track "Slow Evil" by Tom Mustaine.
Walkthrough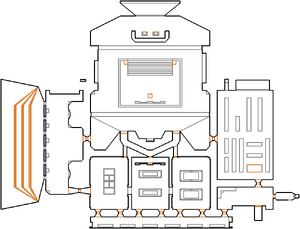 Letters in italics refer to marked spots on the map. Sector numbers in boldface are secrets which count toward the end-of-level tally.
Secrets
Speedrunning
Routes and tricks
As with many other levels in Icarus that have "teleporter" or "begin simulation" exits, a death slide can be performed on this level in the exit hall. The rocket launcher on this level can be used to do so by blasting yourself off of the red computer panels with your back facing the teleporter, but the fastest way is to have monsters kill you. It's easier to do on Nightmare difficulty, where gunfire is constant, and you can run toward the exit as a bullet hits and kills you, sending your corpse under the exit. On Ultra-Violence or lower, however, the monsters are slower, so you will need to let the Cacodemon bite you to lower your health faster.
Current records
The records for the map on the Doomed Speed Demos Archive are:
Miscellaneous demos
Statistics
Map data
Things
External links
Icarus Maps
Secret Maps
Community content is available under
CC-BY-SA
unless otherwise noted.