This level occupies the map slot MAP08. For other maps which occupy this slot, see Category:MAP08.
MAP08: The Jail, designed by Haggay Niv, is the eighth map of Hell Revealed. It uses the music track "Mist Ache" from Rise of the Triad.
Description
According to the Hell Revealed info pack:
This is some kind of jail. You wonder why the hell are monsters inside the cells, after all, they are the bad guys and you are the good guy(s). Your serial number is: 2.718281828.
Size: medium
Difficulty: easy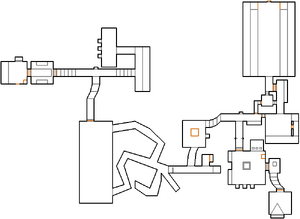 Walkthrough
Secrets
From the square courtyard early in the level, go through the door to the north. Follow the corridor and take the first right. There's a cage in the wall to the right with some monsters in it. Open a section of the wall opposite this cage to reveal a secret passage with a backpack.
Open the back, "dead end" wall inside secret #1 to gain access to another caged room, where you can pick up the chainguns belong to the commandos inside.
South of the crusher with the chainsaw on it is a water-floored corridor in the shape of an inverted "T". There is an alcove in the eastern arm of the T-shaped corridor with a sergeant in it. Open the eastern wall of the alcove to get a computer map.
Speedrunning
See:
Statistics
Map data
Things
Community content is available under
CC-BY-SA
unless otherwise noted.