This level occupies the map slot MAP07. For other maps which occupy this slot, see Category:MAP07.
MAP07: Dead Simple is the seventh map of Doom II. It was designed by American McGee and Sandy Petersen. The map uses the music track "Shawn's Got The Shotgun".
Strategy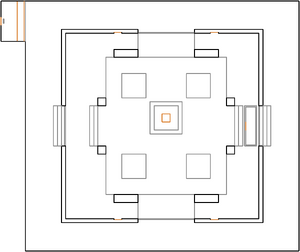 Walkthrough
Press the switch to lower the walls. Kill the 4-6 Mancubi and more walls will lower, revealing Arachnotrons (A). Kill them all and you will be able to end the level by pressing the eye switch in the middle of the map (B). Use the blur spheres to avoid the monsters. Before you exit, hit the switches in this room and the platforms the Mancubi were on will lower, revealing health and weapons. Also, get the ammo/health from where the Arachnotrons came. Now go back to the center of the map and exit.
Secret
The only secret in this level is the area surrounding the exit switch. Therefore, it is impossible to exit the level without triggering the secret.
Speedrunning
Routes and tricks
Records
The Compet-N records for the map are:
Statistics
Map data
Things
Trivia
Because the normal route through the map involves killing all of the monsters on the level, it was for long believed that a UV pacifist run of this map was impossible. However, Drew "stx-Vile" DeVore proved this wrong in 2005 by releasing a Template:Competnftp demonstrating that it is possible to complete the level if the player propels himself to the exit switch with a rocket launcher.
The alcove in the northwest corner contains a BFG9000, a bulk cell and an additional exit switch (as the central exit is usually not reachable when using -nomonsters on deathmatch mode). However, this alcove is accessible only in deathmatch mode, after a player spawns inside and opens the door.
See also
External links