This level occupies the map slot MAP06. For other maps which occupy this slot, see Category:MAP06.
MAP06: nataS ot etubirT is the sixth map of Requiem. It was designed by Thomas Möller, and uses the music track "Path of Destruction" by Mark Klem. Its title is backwards for Tribute to Satan.
Description
According to both the text file and the Requiem info pack:
This is the place where water usually got cleaned to make it re-usable for drinking; the monsters converted the architecture to a radioactive-slime producing facility. The use for the slime is still unknown, but you can be sure they don't plan good things with it. You must get in and eradicate all alien resistance, and try to re-establish a working facility. Good luck.
Walkthrough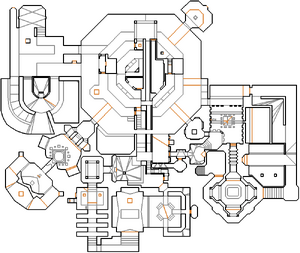 Letters in italics refer to marked spots on the map. Sector numbers in boldface are secrets which count toward the end-of-level tally.
Secrets
Near the start of the map, two floors below you, there is a panel on the northeast wall with grime leaking from the top. Open it to find a small room with a metal pillar. (sector 80) Press on the pillar, and it will lower like a lift, bearing a super shotgun.
In the corridor you can access after getting the combat armor following the blue key, part of the eastern wall has a skull with glowing, red eyes on it. Push it, and it will open into a room with three boxes of ammo, two boxes of shells, and a medikit. (sector 525)
In the hallway surrounding the red skull room, the northern wall of the western side of the hall bears scratch smarks. Open it to find 28 health bonuses, 28 armor bonuses, 7 sets of shells, and a rocket launcher alongside three rockets. (sector 461)
Bugs
Because there are two berserk packs locked away in the inaccessible Deathmatch portion of the level, it is impossible to get 100% items on this map.
Areas / screenshots
Speedrunning
Current records
The Compet-N records for the map are:
Miscellaneous demos
| Run | Time | Player | Date | File | Notes |
| --- | --- | --- | --- | --- | --- |
| | | | | .zip | |
Statistics
Map data
Things
See also
External links
Requiem Maps
Secret Maps
Community content is available under
CC-BY-SA
unless otherwise noted.