This level occupies the map slot MAP06. For other maps which occupy this slot, see Category:MAP06.
MAP06: Collider Complex is the sixth map of Plutonia 2. It was designed by Sam Woodman and Vincent Catalaá, and uses the music track "Sign of Evil" by Robert Prince.
Walkthrough Edit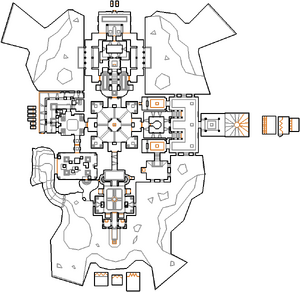 Letters in italics refer to marked spots on the map. Sector numbers in boldface are secrets which count toward the end-of-level tally.
In Secret #3 (sector 413) the two armor bonuses northwest and southwest (things 795 and 796) of the teleporter (sector 449) cannot be picked up without using the idclip noclip cheat code.
For the same reason, some armor bonuses in the teleporter rooms (sector 395) west and east of the hallway exiting the BFG9000 room cannot be picked up.
In the south of the BFG-9000 room, there are two alcoves each on the western and eastern side of the exiting hallway, each containing two armor bonuses that are not tagged as multiplayer only. Those alcoves can only be accessed in deathmatch mode, using the idclip cheat or by using a source port that allows jumping.
Statistics Edit
During development this map was called Complex.
This map shares three commonalities with its predecessor, MAP06: Baron's Lair of The Plutonia Experiment: both levels (1) are arranged with the player starting in a central "hub" sector surrounded by four doors leading to surrounding sectors, (2) use the music track "Sign of Evil" from the Classic Doom soundtrack, and (3) mark the player's first encounter with a Cyberdemon in the episode. Note that this last commonality is only the case on the UV and NM skill levels. When playing on HMP the player will encounter the Cyberdemon for the first time in MAP14: Charon Eclipse, and players who play on ITYTD or HNTR will not mark their first encounter with a Cyberdemon until MAP17: Nuclear Horror, or until the secret levels.
Plutonia 2 Maps
Secret Maps