This level occupies the map slot MAP04. For other maps which occupy this slot, see Category:MAP04.
MAP04: Seclusion is the fourth map of the megawad Alien Vendetta. It was designed by Mattias Berggren in spring 2000 and constructed with DETH. It was known as Seclution [sic] in the first release of the megawad. It uses an MIDI rendition of "Track 2" from Fire Fight, which was composed by Janusz Pelc and Michal Doniec.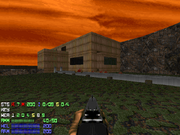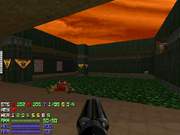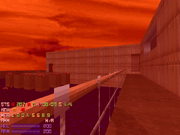 Description
Walkthrough
Secrets
At the very beginning of the level, turn right and you will see a cave in the wall. The inside, which contains a super shotgun and some ammo, counts as a secret.
Near the center of the map is a room with a "window" with glowing green walls and an all-seeing-eye decoration in it. Go through the silver door directly across the from the eye, then open a nearby computer panel wall (right of the switch). Follow the secret path to reach a balcony holding a berserk pack, combat armor vest and soul sphere.
There is a room adjacent to the walkway the red keycard can be found on, with some wooden crates in it. On the eastern side of the room is a section of wall that has some grates near the ceiling. Open this part of the wall to reveal a secret room with a teleport in it. Take the teleport and you'll arrive in a narrow hallway lined with goodies. Follow it to the end, where it loops back to the secret room.
At the far west end of the big outdoor area near the end of the level, there's a deep pit with water at the bottom. Drop into the water, then turn around and lower the left-hand section of the ledge like a lift. The floor lowers, revealing a secret alcove with a backpack in the process.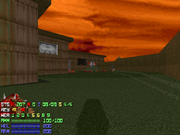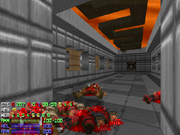 Speedrunning
See:
Statistics
Map data
Things
Community content is available under
CC-BY-SA
unless otherwise noted.