This level occupies the map slot MAP04. For other maps which occupy this slot, see Category:MAP04.
MAP04: Engineering is the fourth level of Icarus: Alien Vanguard. It was designed by Jim Lowell.
Walkthrough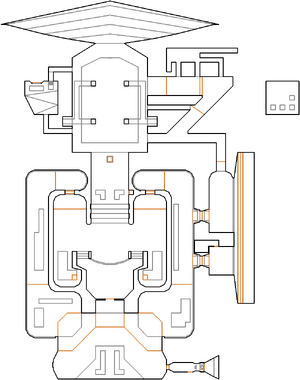 Letters in italics refer to marked spots on the map. Sector numbers in boldface are secrets which count toward the end-of-level tally.
Secrets
Official
In the southernmost room east of the lower hallway (accessed from the eastern elevator in the first room), there is an upside-down cross on the northern wall. Press on it to find a chaingun, a partial invisibility, a berserk pack and three bullet boxes (sector 71).
Non-official
Ride down the central elevator in the first room. Descend either set of stairs, then the one to the north. A part of the eastern wall does not have any computer control. Open it for a computer area map. (You have to run against the opened wall to grab it.)
Speedrunning
Routes and tricks
As with many other levels in Icarus that have "teleporter" or "begin simulation" exits, a death slide can be performed on this level in the exit hall. Because the only rocket launcher on this level is multiplayer-only, you must let a monster kill you to pull it off. It is possible to lead the chaingunner in the first room to damage you heavily, and then enter the exit hall, and run toward the exit while the chaingunner is firing at you. If performed correctly, your corpse, once you get killed, will slide under the barrier, and through the simulation portal, ending the level.
Current records
The records for the map on the Doomed Speed Demos Archive are:
Miscellaneous demos
Statistics
Map data
Things
External links
Icarus Maps
Secret Maps
Community content is available under
CC-BY-SA
unless otherwise noted.