This level occupies the map slot MAP04. For other maps which occupy this slot, see Category:MAP04.

This article is a stub. Please help the Doom Wiki by expanding it.
MAP04: Cursed Cellars is the fourth map of the megawad Scythe 2. It was designed by Erik Alm and uses the music track "Preacher Man" by Fields of The Nephilim.
[[file: |thumb|300px|Map of **]]

Walkthrough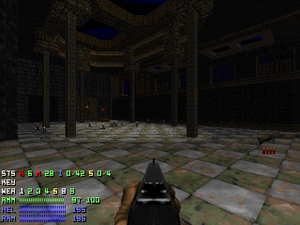 Secrets
Once you reach the outside area, turn left, go down the stairs in-between the two giant green marble walls and follow the long hallway. Near the guarding bars, you will see a lit candle at the right-hand wall. Open the wall behind the candle to find a secret cache housing a teleporter.
The teleporter from secret #1 warps you onto the inaccessible elevation containing a megaarmor.
At the start of the map go down the stairs from either the left or the right side, where you will end up in a big room there will be a brown texture hallway there, At the end the road splits to left and right. At the end of those hallways is a secret room with armor and health bonuses, shotgun shells, bullet clips and energy cells.
Same as secret #3 but taking the opposite route.
Speedrunning
Routes and tricks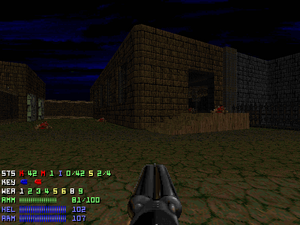 Records
The Compet-N records for the map are:
Statistics
Map data
Things
Scythe 2 Maps
Secret Maps