This level occupies the map slot MAP03. For other maps which occupy this slot, see Category:MAP03.
MAP03: Castle Gardens II is the third map of the megawad Scythe 2. It was designed by Erik Alm and uses the music track "Possession" by The Sisters of Mercy.
[[file: |thumb|300px|Map of **]]

Walkthrough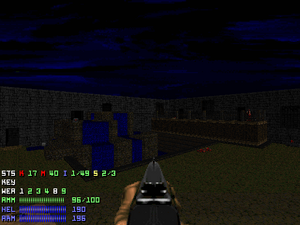 Secrets
Once you fight your way through the hallways in the beginning, you will eventually reach a point where you must drop/jump down (this spot comes right after you kill the first Cacodemon). Before going down, you will notice to your left is a hole with a waterfall texture, now with some good running speed and positioning you will be able to reach it, if not there is a teleport that takes you back up there, so you can try again. Once you make it, there will be a berserk pack and 3 boxes of rockets. Note: there are a lot of monsters in this area, so you should destroy them all before going to the secret.
When you make it to the outside big area where the red keycard is located, jump down into the hole where the water is, but DO NOT step into the nearby teleporter. Instead, there should be a hole in the wall, drop into it, to your left there is another small hole, drop through it as well. You will see a teleporter which leads back to the outside big area but warps you onto the elevated box/crate thing where a soulsphere awaits for you.
Once you open the door requiring the blue keycard, go through the small hallway down the stairs to the outside area, then take the left route. You will notice 4 brown stone pillars and in-between them some platforms that look like they have a switch on the wall. The second one after the first pillar is an actual switch that can be pressed, and this switch lowers the stone pillar/tower right behind you amidst the lava. You will find a mega armor and some health bonuses.
Speedrunning
Routes and tricks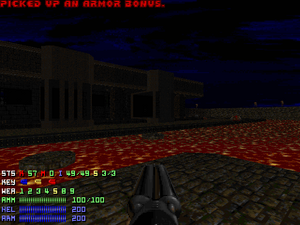 Records
The Compet-N records for the map are:
Statistics
Map data
Things
Scythe 2 Maps
Secret Maps