This level occupies the map slot MAP02. For other maps which occupy this slot, see Category:MAP02.
MAP02: Well of Souls is the second map of Plutonia. It uses the music track "Dark Halls" (the same as for E1M3: Toxin Refinery).
Overview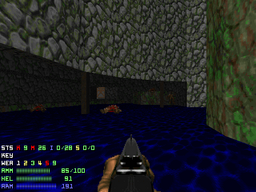 This map is notable for containing an invisible bridge near the end, possibly inspired by that in Indiana Jones and the Last Crusade, which lacks any switch or key for activating it. It can be seen if one uses a map cheat, and its presence can also be surmised by an invisible "wall" in the middle of the toxic mud pit.
Strategy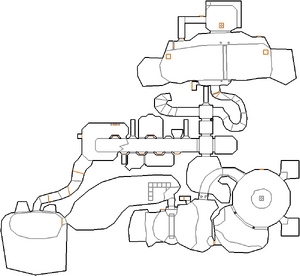 When you go up the winding stair past the hall with the skull switches and the imp cage, one of the floor sections will rise to the ceiling when you step on it. You should back up and let it close, then push it down. Once you do this, it will stay down. If you let it go up and go forward instead of back, you will be stuck at the pit, unless you have the red key.
Walkthrough
Secrets
There are no official secrets in this level.
Speedrunning
Routes and tricks
Records
The Compet-N records for the map are:
Statistics
Map data
Things
External links
Community content is available under
CC-BY-SA
unless otherwise noted.