This level occupies the map slot MAP02. For other maps which occupy this slot, see Category:MAP02.
MAP02: Rooftop Warzone is the second map of the megawad Scythe 2. It was designed by Erik Alm and uses the music track "Black Planet" by The Sisters of Mercy.
[[file: |thumb|300px|Map of **]]

Walkthrough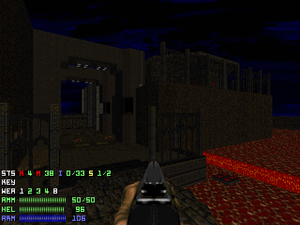 Secrets
Official
At the very start of the map to your left you will see a wall with 2 candles on both sides. You can open the wall behind the candles from either side, inside you will find a shotgun, shells and a green armor.
After opening the yellow door bars, fight your way through the monsters to the next building, inside go up the stairs. To your left side you will see two green monster face textures, the second one has a candle in front of it and can be opened like a door. It leads to a small outside area full of health bonuses, a backpack, bullet clips, a box of shotgun shells and a soulsphere. Depending on the difficulty skill played, this area is guarded by either a Hell Knight or a Revenant.
Non-official
Once you get the blue keycard, go to the balcony/ledge in the middle. As you jump down, try to land on the right balcony/hole where some monsters used to be. Once you are successful, land on it, there is a switch on the wall that you can press then behind you a wall opens up with a megasphere.
Speedrunning
Routes and tricks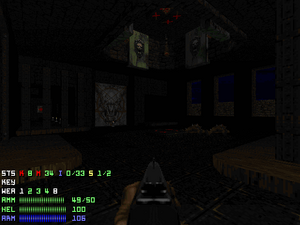 Records
The Compet-N records for the map are:
Statistics
Map data
Things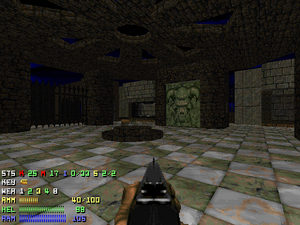 Scythe 2 Maps
Secret Maps