This level occupies the map slot MAP02. For other maps which occupy this slot, see Category:MAP02.
MAP02: Punchline is the second map of Scythe. It was designed by Erik Alm and uses the music track "The Imp's Song ". The map is based around the idea of punching enemies with the berserk kit.
Walkthrough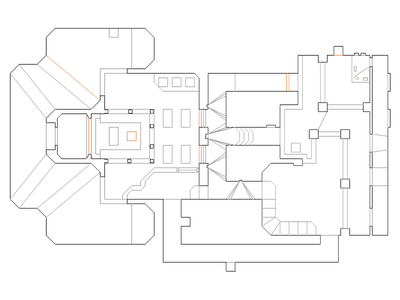 Letters in italics refer to marked spots on the map. Sector numbers in boldface are secrets which count toward the end-of-level tally.
Essentials
From the start, head straight east and go through one of the two doors. Grab the yellow key (grabbing the berserk pack will release a group demons), and exit the room through the way you came in. Head north in the main corridor and then east to the yellow door. Pass through this area by heading west until you reach a U-turn. Run down this corridor to the end and turn the corner to find the exit switch.
Other points of interest
Secrets
From the room with the yellow key, you can run outside via the southern window. Run around the outside area to the north, all of the way around the building, and a platform will lower giving you access to a partial invisibility. (Sector 50)
Enter the southernmost slime pit and enter the corridor to the far south. There will be a platform here holding green armor. (Sector 2)
Bugs
Demo files
Areas / screenshots
Speedrunning
Routes and tricks
Current records
Deathmatch
Statistics
Map data
Things
This level contains the following numbers of things per skill level:
Scythe Maps
Secret Maps
Community content is available under
CC-BY-SA
unless otherwise noted.