This level occupies the map slot MAP02. For other maps which occupy this slot, see Category:MAP02.
MAP02: Coolant Platform is the second map of Community Chest 2. It was designed by Trevor "iori" Primmett.
Walkthrough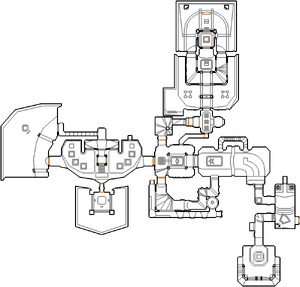 Letters in italics refer to marked spots on the map. Sector numbers in boldface are secrets which count toward the end-of-level tally.
Secrets
In the southermost hallway, there are curved walls bearing the UAC logo. When you enter the corridor with the staircase in the next room, a pair of curved walls in the southeast of the hallway will lower, allowing access to the higher sewage tunnel. Enter the tunnel (it is recommended that you grab the radiation suit when using this route,) and at the end of it is a switch. Flip it, and backtrack to the center of the level to find that the northern monitor has lowered. Enter the opening before the monitor rises to find a secret passage. (sector 204) Activate the lift at the end to find a soul sphere.
After you open the yellow door, there is a misaligned wall in the northeast of the room. Press on it to find a box of rockets. (sector 356)
In the alcove where you obtain the blue keycard, a portion of the western wall looks different from the rest. Open it to find a secret corridor leading to a switch. (sector 330) Press it, and the brown pillar outside of the building will lower, allowing you to access two rockets, as well as a box of ammo and a box of rockets on Hurt Me Plenty or lower.
Bugs
The front sides of linedefs 1763 and 1764, and the back sides of linedefs 1483, 1484, 1486, 1489, 1491, and 1492, are all untextured. As a result, when the UAC walls are lowered to access secret #1, Hall of Mirrors effects will become visible on the inner sides of the walkway, and the east and west sides of the nukage fall.
This level features a Doom Builder 3D Mode Start Thing (thing 120, type 32000) in the yellow keycard room. As it does not have any flags set, however, it will not be present on the map during gameplay, and no "Unknown Thing" error messages will be printed.
Speedrunning
Current records
The records for the map on the Doomed Speed Demos Archive are:
Miscellaneous demos
| Run | Time | Player | Date | File | Notes |
| --- | --- | --- | --- | --- | --- |
| | | | | .zip | |
Statistics
Map data
Things
External links
Community content is available under
CC-BY-SA
unless otherwise noted.