This level occupies the map slot MAP01. For other maps which occupy this slot, see Category:MAP01.
MAP01: Castle Entryway is the first map of the megawad Scythe 2. It was designed by Erik Alm and uses the music "Temple of Love" by The Sisters of Mercy. It is the first map of the first episode, the gothic episode.
[[file: |thumb|300px|Map of **]]

Walkthrough
Secrets
At the very start of the map, there is to your right a fake wall that opens (notice the texture difference), it hides a small closet containing a chainsaw, an armor bonus and a Zombieman.
Right at the end of the very first hall you will see two gargoyle-like walls, attack/shoot the left one, and it will open, leading to an outside hall containing a shotgun and some ammo. Be careful, though, as this area is heavily guarded by zombies, Imps and a Pain Elemental, depending on the difficulty skill setting.
Speedrunning
See:
Statistics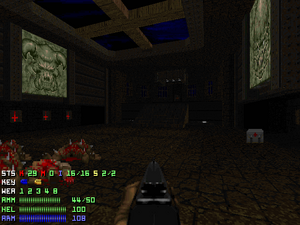 Map data
Things
Scythe 2 Maps
Secret Maps