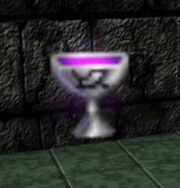 The Krater of Might is an artifact in Hexen, appearing as a silver chalice/goblet inscribed with arcane letters and filled with purple liquid. When used by the player, all Blue Mana and Green Mana will be fully restored to the player.
Trivia
A Krater was a large, wide-mouthed vessel used for mixing wine and water by the Ancient Greeks.
"Might" is an archaic term for strength.
Hexen Items
Health
Armor
Weapons

Baratus (Fighter)
Parias (Cleric)
Daedolon (Mage)

Artifacts
Misc.
Community content is available under
CC-BY-SA
unless otherwise noted.