| | |
| --- | --- |
| | This article is a stub. Please help the Doom Wiki by expanding it. |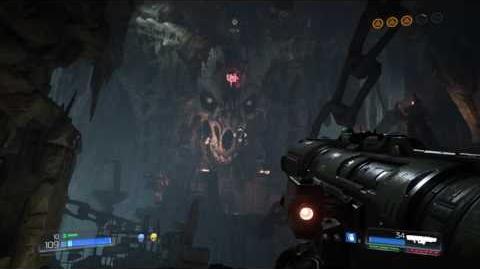 The Icon of Sin can be seen in The Necropolis, and is mentioned briefly in data logs.
Background
A tablet in the map Argent D'Nur suggests that the Icon of Sin is the reborn and demonized son (or was at least demonized by the Icon of Sin) of the Night Sentinel that betrayed his brethren, unleashed onto his father's realm during the battle that assured hell's victory of Argent D'Nur. As of now, the demon is currently dormant, according to a UAC data log that makes reference to it:
"Imagine yourself worshiping before the Icon of Sin, in awe of its splendor even as it sleeps till the Call of Ages comes."
Easter Egg
This is an easter egg that can be found in Doom (2016). The player needs to shoot the icon in the forehead with preferably a Rocket Launcher, similarly to Doom II. The icon will then say the same line when confronted in Doom II before shooting a cube which holds a Doom marine figurine.
Community content is available under
CC-BY-SA
unless otherwise noted.