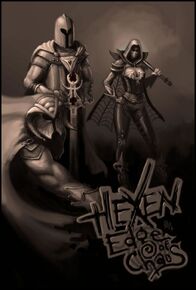 Hexen: Edge of Chaos is a full conversion modification for Doom 3; a remake of Hexen. The project aims to bring back the nostalgia from the 1995 game, where three heroes once again take up their roles and their original weapons to destroy the evil rampaging across the world of Cronos. It became a lost legend after their names were written into the Journal of Destiny.
Plot
The story probably takes place after the defeat of Korax and the events of Hexen: Deathkings of the Dark Citadel, where the three heroes have gone their separate ways after those horrific battles that saved their dimension. Years later, some mysterious evil being has taken over again, although Korax is already dead. However, his power is forever haunting them due to the endless battle and conflict throughout the entire world influenced by corruption, fear and power within the mind of the people, born out of the evil.
History
The project has been in development since 2004 right after the Doom 3 release, alongside the SDK. Although the developer group is small, they keep up the processing work, slowly they have been able to release screenshots one after another showing the environment, weapons and level design on the project itself and during those following years, have managed to be nominated for Top 5 modification game of the year. However, they failed to get the award. In 2007, they released a test run trailer showing a bunch of skeleton warriors making their way to attack the player. However, they refused to admit that a video involved the gameplay of the project and was quickly taken down, before more media coverage spun it to the community. In 2010, the real trailer teaser was released featuring the voice of a mystery female narrating the lost hope of humanity calling the three heroes to come and seek her letter in an unknown tower about the evil rampaging the land again. In 2010, they released the official trailer of the project featuring the gameplay of the Cleric in the first level and at the same time announcing a demo to be released on Nov 10, 2010, playing through with long three beta levels. In 2012, after Id Software released the Source Code of the Id Tech 4 Engine in late 2011, they have announced the project is going to be standalone, a possibility featuring Co-op mode and role-playing-game element for the full final release in the future. On 2018, the developers decided to used the Advanced Quake 3 Map converter to continue it work as it much easier to done the level one at a time.
Video
Websites
Community content is available under
CC-BY-SA
unless otherwise noted.