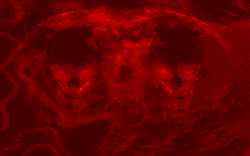 Hell Revealed II (HR2) is a 32-level megawad for Doom II and the sequel to the legendary Hell Revealed. The WAD was authored by a team of 14 members led by Jonas Feragen. It was released in December of 2003. Many have admired this megawad for being quite possibly one of the most difficult wads to date.
Hell Revealed II had a long gestation, with development beginning in 1998. On February 14th 2000 a "beta" version of the megawad was released with 15 levels, and two secret levels. A number of demos were recorded on this version. The intention was to release the full megawad that year, but several years passed before Andy Olivera pulled the project together and released the final version. One of the levels, Beyond The Sea, was actually taken from an earlier Andy Olivera WAD, D2200EP1, released in 1998.
Differences between Beta and Final versions
All the levels in the Beta version made it to the final version, but several levels were moved around:
Hardcore was moved from MAP08 to MAP13.
Excess Meat was moved from MAP11 to MAP18.
Raw Hatred was moved from MAP13 to MAP11.
Mind Trap was moved from MAP14 to MAP19.
There is also a second version of the Hell Revealed II Beta, with a wadfile dated to February 15th 2000. Demos recorded on some levels are incompatible between the two versions.
Levels
Soundtrack
External links
Community content is available under
CC-BY-SA
unless otherwise noted.