Roblox: DeepWoken - The Loop
Play Sound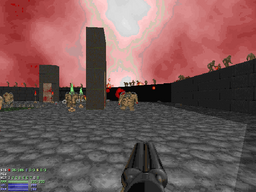 Hell Revealed is a 32-level megawad for Doom II. It is possibly the best known example of an ultra-hard WAD, and has received the most attention by speedrunners of any PWAD. Hell Revealed was created by Yonatan Donner and Haggay Niv and released in May 1997.
It has a sequel, Hell Revealed II, which was released in late 2003.
Story
You wake up with a pistol in your hand, 50 bullets and suddenly you appear to have visible health and armor. Apparently you were sent into an invaded lab experimenting in jumpgates by two mad WAD creators. Your mission is to go through the jumpgate and find out what your mission is, and, in addition, to finish all levels and send a letter of complaint to the madmen who sent you here.
To read the rest of the incredible Hell Revealed story, send $500 to us, or, alternatively, enter a nuthouse.
This is Doom, man - just go in there and kill em all!
Levels
File
Hell Revealed is contained in a zip file called hr.zip. It is 2322399 bytes in size and contains 4 files:
| | |
| --- | --- |
| Size | Name |
| 7027154 | HR.WAD |
| 519357 | HRMUS.WAD |
| 30 | HR.BAT |
| 2551 | HR.TXT |
It has the following hashes:
| | |
| --- | --- |
| MD5 | d81f945e77985d14c1b03a6df27cf055 |
| SHA-1 | 678c898a1fc8ded84e4eac8f6899d0cb4a036d56 |
| CRC32 | d299a6e4 |
External links
Top 100 WADs
1995
Fava Beans

Boothill

Gather2

Artifact

Nostromo's Run
1996
AOD-DOOM

Polygon Base

Trooper's Playground

Hidden Mountain Factory
1997
Talosian Incident

Dawn of the Dead

Hell Revealed

Hell's Eventide

Chord_ng
1998
GothicDM2

Phobos

Earth

Venom

Tantrum 2

Dickie 10

Run Buddy

Odessa 14

Crestfallen
1999
KZDoom1

ChordG

Jägermörder

Assault at Tei Tenga

Herian 2
2000
Chord3

Hell Factory

Painful Evil

KZDoom6

Atomic Tomb
2001
Sin City

Null Space

The Darkest Hour

Equinox

KZDoom7

TVR!
2002
Caverns of Darkness

Dark 7

and

Mission Pack

Nimrod

CH Retro Episode

Ruma

007: License to Spell Doom

Rip It, Tear It, Smash It

Congestion Control
2003
Brotherhood of Ruin

Doom Raider

Helpyourselfish

RTC-3057

Demo