New Pokemon Games - The Loop
Play Sound

This article is a stub. Please help the Doom Wiki by expanding it.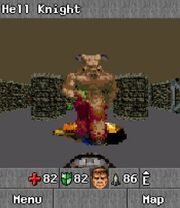 Hell Knights are the second strongest species of the Baron class in Doom RPG and Doom II RPG.
They are stronger than Ogres but weaker than the Barons of Hell.
Appearance
They have brown torso, brown hands, and pink legs.
Doom RPG Monsters
Zombies
Commandos
Imps
Lost Souls
Pinkies
Cacodemons
Pain Elementals
Revenants
Mancubi
Arch-viles
Barons
Hellhounds
Bosses
Doom II RPG Monsters
Zombies
Commandos
Imps
Lost Souls
Pinkies
Cacodemons
Pain Elementals
Revenants
Mancubi
Arch-viles
Barons
Sawcubi
Watchers
Bosses