The Haste sphere is a new powerup that appears in Doom (2016). The Haste powerup increases both the player's movement speed and the firing speed of the weapon in use.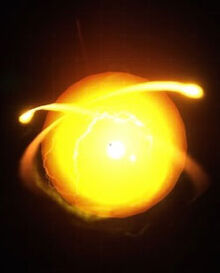 In-Game Description
UAC REPORT FILE BSKQL4E9
This sphere invigorates the imbiber with lightning speed. Once broken, this sphere releases a charged cloud of Soul-Breaker energy which forms a powerful (albeit brief) exoskeleton that charges and accelerates all natural movement. While the effects are brief, the speed that a "hastened" subject can reach is breathtaking. The heart rate also increased dramatically, ultimately resulting in myocardial rupture. The heart, quite literally, explodes.
Trivia
The Haste sphere is based on the powerup of the same name seen in Quake 3 Arena, which was also developed by Id Software.