The fist is the player's stock melee attack. It is always available unless the player has picked up a chainsaw. Punching is only about as effective as a pistol shot, however, unless the player has collected a berserk powerup, which increases the power of the fists tenfold. Like the pistol, the punch is used via left hand.
Notes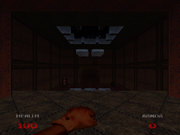 See also
Community content is available under
CC-BY-SA
unless otherwise noted.