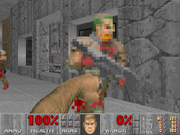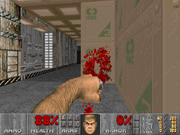 The fist is the player's stock melee attack. It is always available unless the player has picked up a chainsaw. Punching is only about as effective as a pistol shot, however, unless the player has collected a berserk powerup, which increases the power of the fists tenfold. Like the pistol, the punch is used via left hand. A berserk punch is somewhat more effective than the chainsaw and (unlike the normal fist) can be used instead of it. It does, however, have the disadvantage of not doing continuous damage, which leaves the player open to counterattacks. While the chainsaw drags the player erratically toward the enemy, the fist does not change the player's position, and only re-adjusts his orientation in the moment of a successful hit. This means that the fist requires more careful aim than the chainsaw, but may be preferred to prevent being drawn onto a damaging floor, under a crusher, around a corner or from a narrow bridge. Likewise, it is safer to trigger a barrel explosion with the fist (although it remains dangerous), additionally because the finishing punch propels the beaten monster or barrel away.
The damaging hitscan effect of the punch is inflicted two frames into its animation. The fist is not completely extended at this point, and consideration of this lag can help in timing punches effectively.
Data
Fist data
Weapon number
1
Damage
2-20 (20-200 with berserk)
Included ammo
Infinite
Shot type
Hitscan
Shots per minute
123.5 punches
Sound
DSPUNCH
Appears in
Shareware Doom
Registered Doom
The Ultimate Doom
Doom II/Final Doom
Sprite
PUNG (wielded)
PUFF (impact, miss)
BLUD (impact, hit)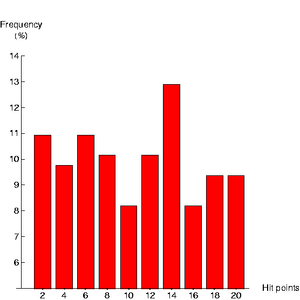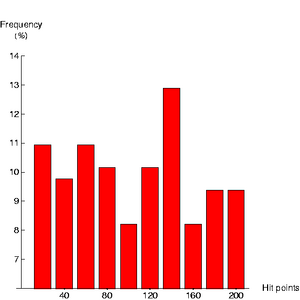 This table assumes that all calls to P_Random for damage, pain chance, and blood splats are consecutive. In real play, this is never the case: counterattacks and AI pathfinding must be handled, and of course the map may contain additional moving monsters and other randomized phenomena (such as flickering lights). Any resulting errors are probably toward the single-shot average, as they introduce noise into the correlation between the indices of "consecutive" calls.
Assumes that direct hits are possible, which does not occur in any stock map.
Doom Items
Health
Armor
Weapons
Ammo
Items
Powerups
Community content is available under
CC-BY-SA
unless otherwise noted.