The player continues his adventures on the lost places of hell in space. This time he stumbles upon another hellish fortress, but first, he needs to get out of the pit (a reference to E3M1). He is kindly greeted by a couple of pinkyes, imps, zombies and sergeants. Also on this level, in addition to the friendly company and a skeleton will join , so as not to miss you and brighten up your adventure in search of three keys again!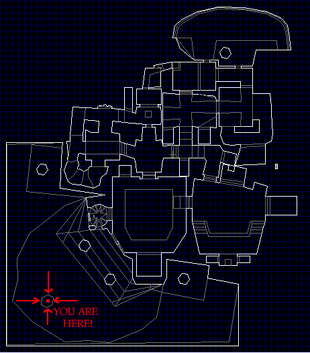 Demonstration of full map level from XWE 1.16 utility
Bah, what a familiar pit .. Noticed an interesting thing with a double-barrel shotgun - and the primary static sprite at a shot taken from the mod "Brutal Doom", and the sounds are of different quality from Doom 2. Feeling that these sounds are pulled from a version for consoles .. Heh, that's pretty.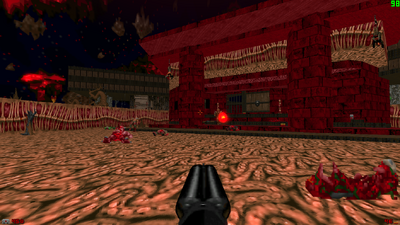 It would seem, that the same texture, the same hole with the same eye, but the detail is amazing terrain!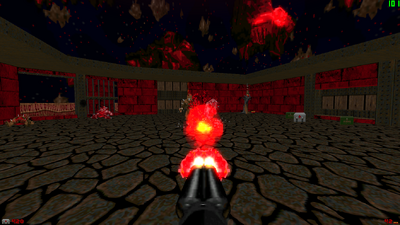 This place with two descents to the door reminded me E4M8, the starting point spawn player in Doom One, ported to consoles as well.
Here they are, the new organic substances on the familiar walls!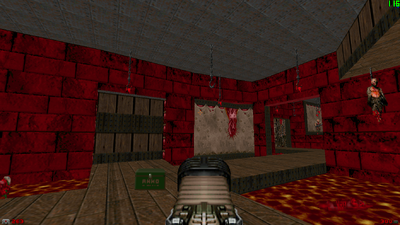 New chains on the ceiling, without the corpses .. Anyone pleased that it is now on anyone can not see :)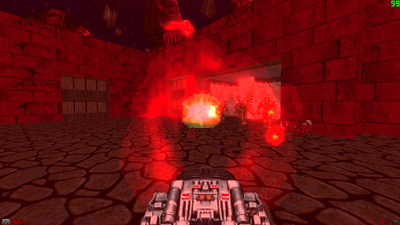 Another "massacre" (The sky is amazing - like a mountain with a third episode and who knew that hell was in space!)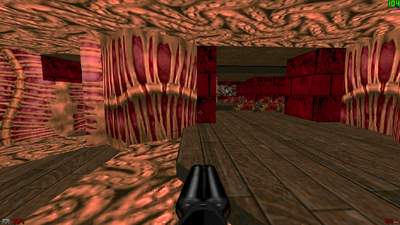 Sooo much organic meat and spines!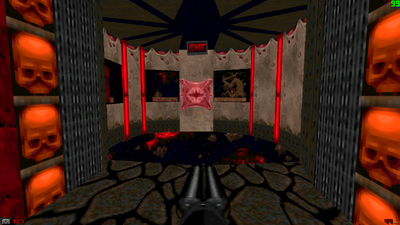 The obvious solution to the "no-texture" floor, this tower was visible even in the output from the outset. _____________________________________________________________________________________
X-TRAIN, doom2d.org community
Community content is available under
CC-BY-SA
unless otherwise noted.