This level occupies the map slot E4M8. For other maps which occupy this slot, see Category:E4M8.
E4M8: Shattered Bridge is the eighth and final level in The Ossuary episode of Heretic Shadow of the Serpent Riders.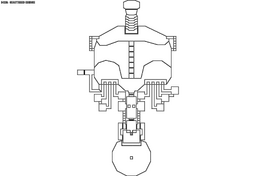 Walkthrough
Head down the stairs and out one of the doors to enter the bridge area. To make each segment of the bridge rise up, one must shot the sides of the moving platforms across the other side of the bridge. Though the wind will make it more difficult to achieve with projectile firing weapons.
Once across the bridge, note the Wings of Wrath on the ledge to your right; this is where you need to get to. To reach here get on the right most moving platform and head down the corridor at the top, which leads you around to the wings. When you jump off the ledge back down to the bridge area, a wall will lower behind you revealing a Disciple and Yellow Key. Head back up to the ledge to pick up the key.
Head to and through the main door and continue heading south through the Yellow door to a switch that lowers a couple of walls; once you pass through these, they will raise up preventing you from going back. Hit the new switch that has been revealed to lower another wall revealing several Iron Lich and the exit teleporter, which will lower once the Liches are defeated.
Secrets
1. The pen the Yellow Key is in counts as a secret.
2. The two cages in the room just before the Iron Liches each count as secrets. To get into them, head up the middle two raising platforms in the bridge area and press on the differently textured walls in the rooms which the corridors at the top lead to. Then head south pressing another two differently textured walls. The cages each contain a Quartz Flask, Flame Orb and either a Tome of Power or Bag of Holding.
3. See Secret 2.
Screenshots
Statistics
Things
| Monsters | Skill 1-2 | Skill 3 | Skill 4-5 | Multiplayer |
| --- | --- | --- | --- | --- |
| Gargoyle | 0 | 0 | 0 | +0 |
| Golem | 0 | 0 | 0 | +0 |
| Undead Warrior | 0 | 0 | 0 | +0 |
| Weapons | Skill 1-2 | Skill 3 | Skill 4-5 | Multiplayer |
| Gauntlets of the Necromancer | 0 | 0 | 0 | +0 |
| Ethereal Crossbow | 0 | 0 | 0 | +0 |
| Dragon Claw | 0 | 0 | 0 | +0 |
| Hellstaff | 0 | 0 | 0 | +0 |
| Phoenix Rod | 0 | 0 | 0 | +0 |
| Ammo | Skill 1-2 | Skill 3 | Skill 4-5 | Multiplayer |
| Wand Crystal | 0 | 0 | 0 | +0 |
| Ethereal Arrows | 0 | 0 | 0 | +0 |
| Quiver of Ethereal Arrows | 0 | 0 | 0 | +0 |
| Claw Orb | 0 | 0 | 0 | +0 |
| Energy Orb | 0 | 0 | 0 | +0 |
| Lesser Runes | 0 | 0 | 0 | +0 |
| Flame Orb | 0 | 0 | 0 | +0 |
| Bag of Holding | 0 | 0 | 0 | +0 |
| Items | Skill 1-2 | Skill 3 | Skill 4-5 | Multiplayer |
| Crystal Vial | 0 | 0 | 0 | +0 |
| Quartz Flask | 0 | 0 | 0 | +0 |
| Mystic Urn | 0 | 0 | 0 | +0 |
| Silver Shield | 0 | 0 | 0 | +0 |
| Enchanted Shield | 0 | 0 | 0 | +0 |
| Tome of Power | 0 | 0 | 0 | +0 |
| Morph Ovum | 0 | 0 | 0 | +0 |
| Wings of Wrath | 0 | 0 | 0 | +0 |
| Chaos Device | 0 | 0 | 0 | +0 |
| Working Parts | Skill 1-2 | Skill 3 | Skill 4-5 | Multiplayer |
| Player 1 Start | 1 | 1 | 1 | +0 |
| Player 2 Start | 1 | 1 | 1 | +0 |
| Player 3 Start | 1 | 1 | 1 | +0 |
| Player 4 Start | 1 | 1 | 1 | +0 |
| Deathmatch Start | 0 | 0 | 0 | +4 |
| Yellow Key | 0 | 0 | 0 | +0 |
| Teleport Destination | 0 | 0 | 0 | +0 |
| Markers | Skill 1-2 | Skill 3 | Skill 4-5 | Multiplayer |
| Key Gizmo (Yellow) | 0 | 0 | 0 | +0 |
| Pink Teleport Glitter | 0 | 0 | 0 | +0 |
| Decorations | Skill 1-2 | Skill 3 | Skill 4-5 | Multiplayer |
| Barrel | 0 | 0 | 0 | +0 |
| Fire Brazier | 0 | 0 | 0 | +0 |
| Serpent Torch | 0 | 0 | 0 | +0 |
| Hanging Skull (Shortest) | 0 | 0 | 0 | +0 |
| Hanging Skull (Shorter) | 0 | 0 | 0 | +0 |
| Hanging Skull (Longer) | 0 | 0 | 0 | +0 |
| Hanging Skull (Longest) | 0 | 0 | 0 | +0 |
| Wall Torch | 0 | 0 | 0 | +0 |
| Sound Effects | Skill 1-2 | Skill 3 | Skill 4-5 | Multiplayer |
| Drops | 0 | 0 | 0 | +0 |
| Slow Footsteps | 0 | 0 | 0 | +0 |
| Wind | 0 | 0 | 0 | +0 |