This level occupies the map slot E2M7. For other maps which occupy this slot, see Category:E2M7.
E2M7: Babel-17 is the seventh map of Kansam's Trial. It was designed by Kansam and uses the music track " ".
[[file: |thumb|300px|Map of **]]

Walkthrough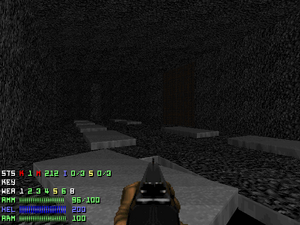 Secrets
When you take the first teleporter, there is a hidden teleporter (sector #194) behind you that goes on the other side of the river.
When you have lowered the trench before the blue key door and grabbed the blue key, on the other side of the trench, on its left there is a hidden place (sector #193) with two soulspheres.
On the left of the bone-shaped grey building, there is a red switch that opens an ammo cache (sector #190) just behind the start.
Speedrunning
Routes and tricks
In the ship, instead of hitting the switch that turns the light out, you can hit it directly: it is in the left part (the one without the rocket launcher), between two shotguns.
When you grab the blue key, instead of letting the monsters spread everywhere, return in the ship to lower again the trench.
There is a spectre in the moved grave in the catacomb, beware the place hurts.
Records
The Compet-N records for the map are:
Statistics
Map data
Things
Community content is available under
CC-BY-SA
unless otherwise noted.