This article is a stub. Please help the Doom Wiki by expanding it.
This level occupies the map slot E1M8. For other maps which occupy this slot, see Category:E1M8.
E1M8: Phobos Anomaly is the eighth and final map of Classic Doom for Doom 3 designed by Gareth Ward (Gazz), based off of the original E1M8 by Sandy Petersen and Tom Hall. Due to personal artistic style of Gareth Ward, adherance to the limitations of the Doom 3 engine and technical limitations of PC hardware during the development of Classic Doom 3, the arena is shaped like a 1950's War of the Worlds Martian death machine instead of a pentagram, and the arena elevates the Barons from holding cells to be confronted by the player whereupon the walls do not drop as per the original E1M8 level design. Once the Barons are defeated, the player is able to exit the arena and trigger the end cinematic.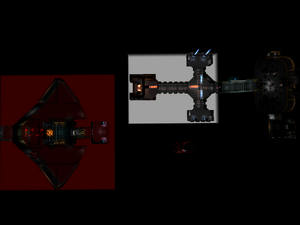 Areas / screenshots