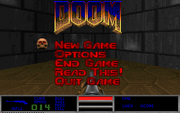 Doom 0.5 was an alpha version of Doom, released on May 22, 1993 to testers.
Features
This version included a number of features in addition to those found in the Doom 0.4 alpha version:
After the player quits the game, the ENDOOM screen states that it is a preview of Doom: Evil Unleashed.
Levels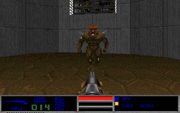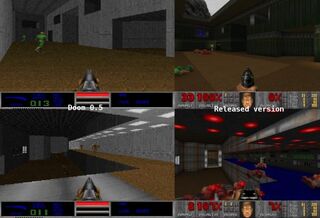 Version 0.5 included several levels, most of which were modified and used in the release version of Doom. Level 6 was held back for Doom II. Unlike the previous alpha versions, Doom 0.5 is open ended and unlinear; the player can transition between levels at will. This is also the last Doom version with Tom Hall aboard the development team, so these map versions are the most recent to reflect the vision laid out in the Doom Bible. The levels made by Hall are mostly identical to retail, with the notable exception of texturing, contradicting developer John Romero's statement "most of [Tom Hall's] levels had very little work done to them, in fact".
All the playable levels are internally designated E1Mx, where x is any number between 1 and 13. This still reflects the original intention to have a full 13 levels for episode 1.
As a final technical note, an unplayable map designated E2M1 can be found in the data files. The map is an unfinished version of Limbo, but many of the required textures are missing in the Alpha. This issue, and the extremely unfinished nature of the design, makes the level completely unplayable and it must thus be seen only as a piece of historical curio.
Gallery
Items
Powerups that never made it to the released version are present in the data files, and are even placed in some of the levels. For instance, the Vampiric Powerup is placed in the hidden room in the southern crusher corridor of the Containment Area level, instead of the Chainsaw as is the case with Ultimate and registered Doom. Unfortunately, since the code is not present the powerup neither works nor shows up. The corridor did not even have crushers yet.
Some bonus items seem to be carry-overs from Wolfenstein 3D, such as the chalice and the chest. While the purpose of the bonus items were simply to award the player points -- similar to Wolfenstein 3D -- the point system was dropped early in the development of the game, and the bonus items are merely remnants of it. The combat armor/megaarmor is still called officer armor and uses a different sprite (a green armor with boots).
Most of the item graphics were completely different, and utilized a design similar to Wolfenstein 3D, most notable in the mentioned treasures and the pistol clip.
Weapons
Technical
Enemies
External links