watch 02:05
Wiki Targeted (Games)
Play Sound
Doom 0.4 was an alpha version of Doom released to testers on April 2, 1993. At this point in development, a number of elements had already been completed, and it appears that the main features of the renderer were already in place.
Features
Version 0.4 included the following features:
Q, W and E change the detail mode for rendering, R provokes glitched graphics. T makes the player spin around in circles (and crash as soon as a movement key is pressed), P shows a message box displaying the message "Start Profile" (and will then crash if pressed again). Z, X and C alter the display of floor and ceiling textures. M triggers the "prone" mode (lowers camera viewpoint).
Levels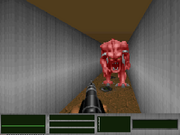 Version 0.4 included 11 levels, some of which evolved into levels used in Doom. 13 levels are mentioned in the documentation file distributed with the alpha, and these are mentioned below:
Strangely, an aerial view of all the 13 levels, including their names, can be seen in the intermission screen of the next Alpha version (Alpha 0.5).
Gallery
Items
Several items mentioned in the Doom Bible are still present in this Alpha version of Doom. Additionally, items such as flags —albeit only as the lowest part of the stand— make their one and only appearance in this version. While the items do not have the corresponding code present, the graphics and sprite names, however, are.
Weapons
Technical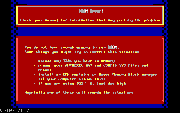 External links