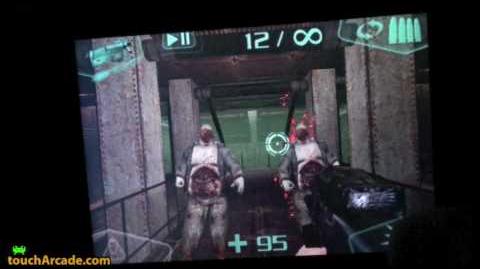 For information of articles related to "Resurrection" see Doom Resurrection (disambiguation)
For information about the 2001 map set, see Doom Resurrection (WAD).
Doom Resurrection is an iPhone OS first person rail shooter game by id Software and Escalation Studios, released on June 26, 2009. John Carmack led the development team. Doom Resurrection uses resources from Doom 3 and acts as a side story/prequel to the game.
Background
Immerse yourself in the first person on rails experience that takes your iPhone or iPod Touch beyond previously imagined limits. Introducing DOOM Resurrection, a brand new, technologically advanced, heart-pounding chapter in the legendary DOOM Saga!
Scientists on a remote research facility on Mars have lost control of their experiment and all Hell has broken loose. As the last surviving Marine in your unit, you must defeat Hell's minions and unravel the mystery of what has happened on Mars. Earth's future depends on you!
Courage alone will not be enough to stand up to the evil that awaits you. Utilize a devastating arsenal of weapons, helpful NPC's and your environment to succeed. With an assault rifle, shotgun, a vicious chainsaw, and more, you will even the odds in a raging battle against unnatural beasts hell-bent on flaying your flesh and damning your soul.
With its revolutionary control scheme, breathtaking visuals, and intense story, DOOM Resurrection is sure to provide the adrenaline rush you've been craving.
Do you have what it takes to defeat evil and survive the Resurrection?
Features
• An all-new chapter of the DOOM saga designed exclusively for the iPhone and iPod Touch
• Advanced graphics engine designed from the ground up to take full advantage of the power found in Apple's mobile devices
• Wield an arsenal of heavy-hitting weapons to defeat a variety of hideous monsters and bosses
• Innovative controls for fast-paced and accessible first-person action
• Intense story that new players and long-time DOOM fans can enjoy
8 all new levels
• 6 various Mars themed levels
• 2 Hell themed levels
Brand new game mode, Challenge mode, with 40 unique challenges.
All new Bonus Map!
Controls
This game has a unique control system. Tilting the your device aims, the top of the screen shows your ammo, the bottom shows your health, the top-left changes your weapon, the top right reloads, shaking the device (when prompted) will shake off the enemy, the bottom left dodges and the bottom right shoots your gun.
Story
The game stars an unnamed marine, a survivor of Bravo Team, it takes place in June 2145 (several months before Doom 3). He awakens, and is soon confronted by Dr. Garret, who presents him Sam, a flying droid capable of opening doors and hacking computers. Together with Sam, the survivor makes his way through the Mars facility, battling zomibies and demons on his way through the base. The task is to reach a port, where a spaceship full of surviving members of UAC facility is preparing to launch off. On his way, the marine meets a few survivors (who dies in front of his eyes), and collects valueable information through Sam, and visits Hell, where he closes the demon-spawning portals. Eventually, the marine is forced to leave Dr. Garret behind, and Sam sacrifices herself to support a closing door to the spaceship, leaving only the data implicating the UAC behind. The marine successfully boards the ship and leaves Mars with a few other survivors.
Note: Sam's Remains were eventually recovered in Doom II RPG in Hell.
The story of Doom Resurrection is very similar to "The Lost Mission". In both the protagonist is a sole surviving member of a squad known as Bravo Team and both marines team up with a scientist.
Enemies
It contains some of the enemies present in Doom 3.
Demon
Imp
Lost Soul
Maggot
Zombie
Fat Zombie
Zombie Security Guard
Zombie Commando
Bosses
Arch Vile

Mancubus

Hell Knight
Levels
EnPro Labs
EnPro Underground
Tunnels
Delta Labs
Gehenna
Abaddon
Alpha Labs
Mars City
Sources
External links