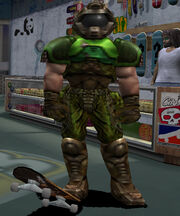 Doom Guy
is a cameo character, exclusive to the PC version of
Tony Hawk's Pro Skater 3
as an unlockable.
Biography
Doom Guy is the same space marine from classic Doom games and Quake III: Arena, with the only difference being that he lives in Mesquite, Texas, where id Software was previously located.
Trivia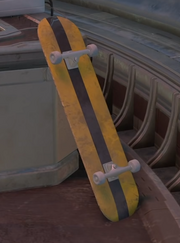 In order to unlock him, a player must type "idkfa" in the cheat menu. In classic Doom games, idfka is a cheat that gives all of the weapons and keys.
He uses the model of Doomguy from Quake III Arena.
His skateboard can be found in Doom Eternal in the Fortress of Doom.
Community content is available under
CC-BY-SA
unless otherwise noted.