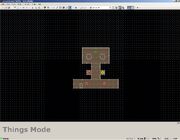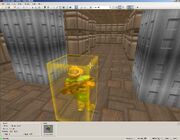 Doom Builder 2 is a free Doom level editor with full support for Doom, Doom II, Heretic, Hexen, Strife, and all the popular source ports. Popular features include lots of customizability, prefabs, advanced drawing code, and a 3D mode which allows users to browse and edit/align textures in real-time. This product is developed by Pascal "CodeImp" vd Heiden and is free software, licensed under the terms of the GNU General Public License. The project was first released in May 2009. Doom Builder 2 is compatible with Windows XP, Windows Vista, Windows 7, Windows 8, and Windows 8.1 operating systems. The latest version (2.1.2.1553) was released on June 1, 2012.
Doom Builder 2 is a complete rewrite of the original Doom Builder, with no code in common.
External links
Community content is available under
CC-BY-SA
unless otherwise noted.