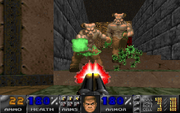 Crispy Doom is a limit-removing enhanced-resolution Doom source port based on Chocolate Doom.
Its name means that its internal 640x400 resolution looks "crisp" and is also a slight reference to its origin.
Crispy Doom is a friendly fork of Chocolate Doom that provides a higher display resolution, removes the static limits of the Doom engine and offers further optional visual, tactical and physical enhancements while remaining entirely config file, savegame, netplay and demo compatible with the original.
Crispy Doom strives for maximum compatibility with all limit-removing Vanilla maps, but does not support Boom or ZDoom maps. Many additional less user-visible features have been implemented, including repair of game engine limitations and bugs, full support for DeHackEd files and lumps in BEX format, additional and improved cheat codes, an improved automap, and more. Due to the extra DeHackEd states added from MBF Crispy Doom supports enhancer mods that can make the gameplay even more pleasing to the eyes. For a detailed list of features and changes please refer to the release notes.
External links